Fame And Glory From Forever Clever
Fame And Glory From Forever Clever
Vince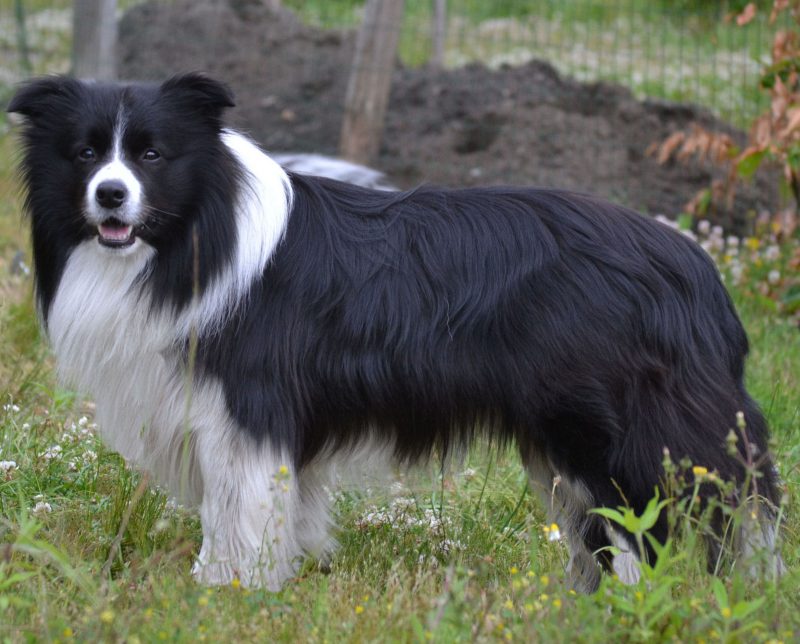 Geboren: 2-5-2012
Kleur: zwart-wit
Heupuitslag: HD-A
CEA-CL-TNS DNA vrij
Glaucoom DNA vrij
MDR1 +/+
IGS-SN-RS vrij
Drager van ee-red
25-08-2013  NL Jeugdkampioen
23-05-2015  CAC-CACIB-BOB
26-07-2015  CAC-CACIB
12-09-2015  RCAC-RCACIB
Vince is een spontane leergierige knul, vindt het geweldig om voor je te werken, kan niet wachten totdat er wat meer actie komt ( als hij maar eens behendigheid mag gaan doen).
Buiten is hij zeer actief maar binnen kan hij lekker op zijn kleedje een botje kauwen.
Vince heeft een open zachtaardig karakter, en is een stabiele jongen.
Hij kan het prima vinden met kinderen, met zijn geweldige charmes krijgt hij ze wel zover dat ze even met hem spelen of voor een heerlijk kroel en knuffelpartij.
Zijn allergrootste hobby is ZWEMMEN, zal niet eerst kijken of het kan, water betekend "plons erin", dus in een onbewaakt ogenblik ook regelmatig in een vuile sloot.
Gaan we naar het water waar Vince wel mag zwemmen, heeft hij zijn vriendjes en bal niet meer nodig….zijn motto is "laat mij maar met rust , ik trek mijn baantjes wel tralalalala !"
Je ziet hem dan ook genieten, ons waterratje !
Vince leeft bij Anja en Peter, daar traint Anja hem gehoorzaamheid, en wij trainen
hem voor de show.
CH SIMPLY THE BEST FROM BORDERS PARADISE

CH WAVENEY CAUGHT IN TIME

 CH TOOKURRA CATCH A STAR

CH WAVENEY MIDNYT IMPRESSN

MOULEN ROUGE FROM BORDERS PARADISE

GOLDEN SHADOW FROM BORDERS PARADISE

TRUCHARM AMAZING GRACE

KUHAYLANS OZ FANTASY GIRL

CH JESSOMINE AUSSIE MERLOT

CH TRUCHARM ROYAL TARTAN

KENTISH SHIRAZ

CH KUHAYLANS OZ KITKATCARAMELDREAM

CH WILDBLUE DIAMOND IN THE RUFF

CH WILDBLUE INFINITY