CH Little Soul From Forever Clever
CH Little Soul From Forever Clever
Livy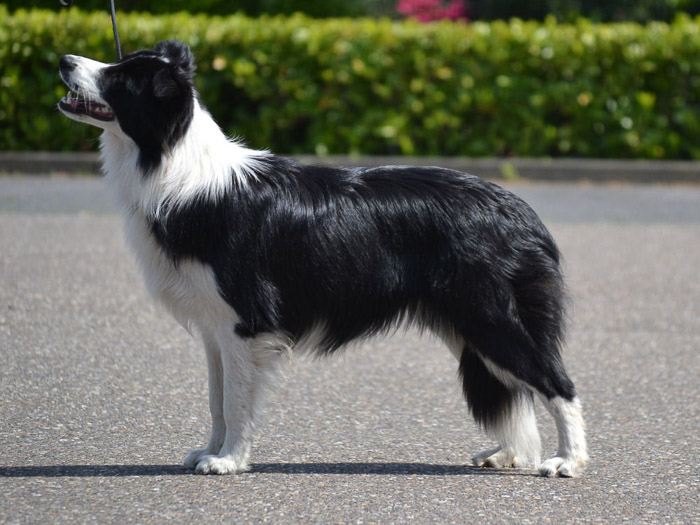 Born: 14-08-2013
Colour: black & white
Hips: HD-A
CEA-CL-IGS-SN-RS-GG-TNS-MDR1 +/+ DNA free
AOD – carrier
Benelux Winster 2019
Amsterdam Winster 2018
International Champion 2017
Belgian Champion 2017
2x Qualified for Crufts 2016
Brussels Winster 2015
Amsterdam Winster 2015
NL Champion 2015
Qualified for Crufts 2015
Benelux Youth Winster 2014
NL Youth Champion 2013
Livy  ( also called  Lieve Lientje) is a daughter from our PAM, by this she is the 3th genaration from Forever Clever.
She is big friends with Pam , Finna, Teddy and Scott.
Having a wonderfull character, little naughty, but wants to do everything right for you, very smart en the fastest girl in the forrest.
Our little racy girl !!
When our dogs plan naughty things, she loves to be with them.
And than when she knows we're looking, she is playing innocence .
IT WAS'NT ME !!
Anja is training obedience with her, and we are gonna show her !
 CH SASHDAN SMOKIN JOE

 CH NZTAZMANTREKKER O CLAN-ABBY

 CHCLAN-ABBY HILAND-TREKKER

 CH TRUMAGIK TO CLANSCOTT

 FINEALTA MAGICAL MELODY

CH YELEEK WIZARD OF OZ

 CH FINEALTA RHYTHM N BLUES

 CH LADY OF SOUL FROM FOREVER CLEVER

 CH TONKORY DENNIS SHEPHERDS DREAM

 CH BORDERFAME HEART N SOUL

 TONKORY PORIRUA

 FAY FROM FOREVER CLEVER

 BEST ARAMIS OF CLOVER CORNER

 AYLA